ZNS (Zalo Notification Service) is an effective customer-care messaging service that sending proactive messages to Zalo users in just 15 seconds. In fact, ZNS is receiving increasingly more attention thanks to its remarkable features as well as practicality in work optimization. The following article will tell you about the joint effort of DooPage and Zalo to offer free SMS for the Vietnamese market through ZNS every month.
How does ZNS work?
Recently, OTT (Over-the-top) media services are widely known in Vietnam. As a result, almost all smartphone users here have installed Zalo on their phones. This marks the birth of Zalo Notification Service (ZNS) – a messaging service that helps businesses dispatch a sizeable number of messages to their target customers via Zalo. ZNS is considered as an optimal solution to save expenses and improve customer experience as they receive messages. ZNS is part of Zalo OA (Official Account) – helping Zalo enhance the ability to disseminate information to targe users. ZNS automates customer support on Zalo without having to chat with Zalo's OA in advance.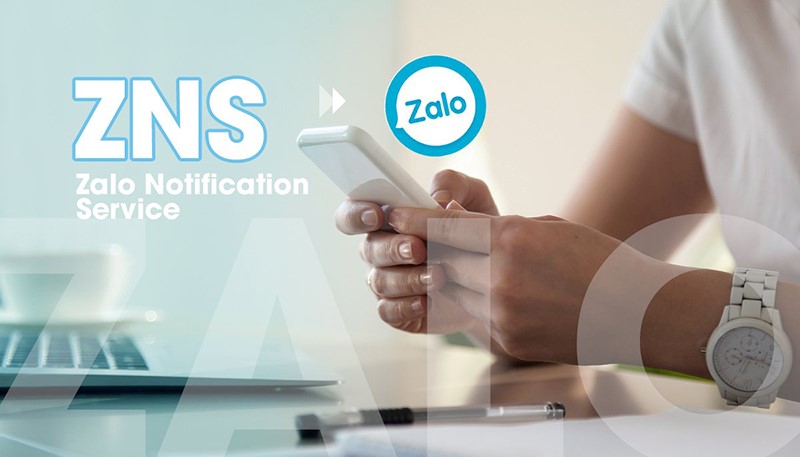 Purposes and Requirements of ZNS: Zalo notifications are sent to customers in an event related to account settings, transactions, or financial relationships. Contents of free SMS for the Vietnamese market are not allowed to include advertisement and must consist of a specific parameter for that message (e.g., customer name, order code, transaction code, etc.)
Some types of free SMS for the Vietnamese market 
Zalo is currently providing various forms of disseminating free SMS for the Vietnamese market through ZNS according to the purposes and needs of each type of business in reaching their target customers as follows:
Notification messaging: Notifications on successful transactions, orders, renewals, system errors, etc… The company's name and trademark are registered for free in advance.

Customer-policy messaging: Your content will be sent to Zalo or Zalo's third-party representatives for pre-censor and registration. Afterward, you can use existing templates or customize them to fit your needs, then send them to your current customers.

Messaging API: API allows programmers to integrate customer-care messaging service into any system – software – language.

Call To Action: Messages are inserted with pop-up links or response buttons for two-way interaction, allowing customers to engage with fanpage, so that businesses can offer better customer care. In addition, businesses can also insert their logo/ mark on a side of the messages to increase brand recognition.

Integrated messaging: Zalo supports businesses with the integration of systems and software for effortless customer management.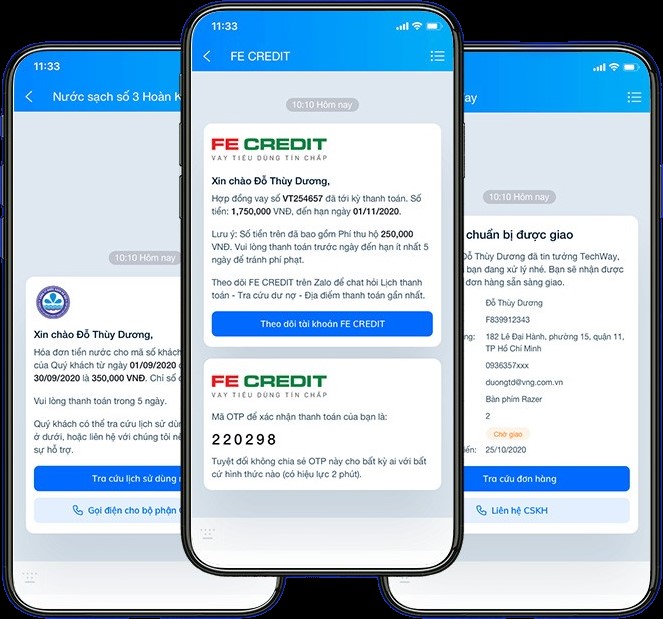 And these types of free SMS for the Vietnamese market through ZNS can be fulfilled of contents below:
Account settings

Transactions

Financial relationship

–  OTP for a new account.

– Notification if an account has not yet been authenticated.

– Notification when an account is successfully created.

– OTP for password change.

– Notification for an about-to expired account.

– OTP for transaction confirmation.

– Notification: out of stock.

– Order confirmation.

– Order status.

– Notification for an appointment.

– Notification for study schedule.

– Order cancellation notification.

– Notification if a profile is successfully created.

– Notification when a profile is approved.

– Successful disbursement notification.

– Account balance changes notification.

– Reminder of overdue debt.
Remarkable benefits of free SMS model for Vietnamese market for businesses
Swiftness in approaching target customers
Zalo can operate sending free SMS for the Vietnamese market through ZNS very fast with an almost absolute accuracy rate. 100% of ZNS messages are sent after just 1 seconds, and up to 90% of ZNS messages are received within 5 seconds. You only need to have customers' phone numbers to send customer-care messages without prior follow or chat with the company's Zalo OA.
Simple customer interaction interface
With ZNS, customer interaction is much easier thanks to Call To Action buttons, from which your customers can leave a message according to their goals, so that businesses can easily respond, just like on their Zalo OA. ZNS also enables companies to know whether your customers have read your message or not, giving them a measurable tool of effectiveness for their messaging campaign.
Diverse and easily customizable message content
ZNS supports sending more diverse forms of message than normal SMS, being capable of sending service announcements, customer support content, or messages with links or response buttons that attract customers' attention for further reading and interaction.
Easy and cost-effective implementation
ZNS can be implemented as an additional medium besides the company's existing infrastructure. Businesses can contact third parties/ agencies to put free SMS for the Vietnamese market into practice. For example, DooPage is distributing cooperation policies linked with ZNS, offering 50,000 complimentary proactive messages via Zalo monthly for businesses.
Companies can still directly contact ZNS's team for an agreement. By cooperating with third-party agencies like DooPage for ZNS implementation, however, time and effort to deal with arising problems can be saved, since they will be taken care of by our dedicated team members.
High level of user confidentiality
Zalo's security level is always a top priority. As for ZNS, a maximum security level is also committed. Businesses' data are transmitted to the Zalo API server via HTTPS (Hypertext Transfer Protocol Secure), which controls the right to exchange information between companies and Zalo using Access Token (according to OpenAPI standards) to trace Zalo's API.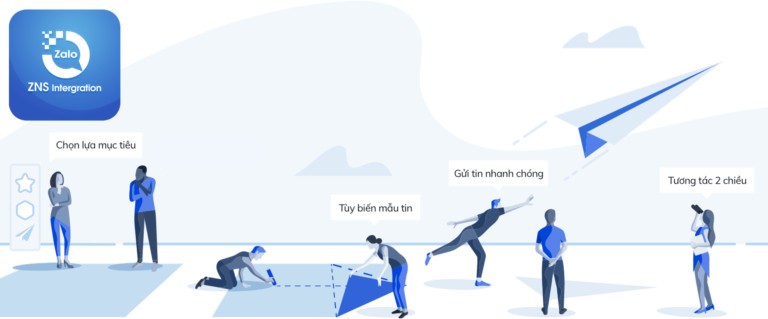 Requirements for free SMS on ZNS
The following requirements have to be satisfied to be eligible for ZNS's messaging service:
For businesses
–     Company's brand name or trademark must be registered and authenticated with Zalo.
–     Messaging API can only be sent to users who already have established a relationship with the business and had their phone numbers provided to the business.
–     Users may (not) be followers of the company's OA.
–     Messages will be sent whenever a user makes a successful transaction with the business or in case there is a change in the user's account or a change in the relationship between the user and the business.
Message content sent to the customer must also satisfy the following criteria:
–     Message template must be pre-approved by Zalo.
–     There is at least one parameter specific to the transaction or account change (e.g., order number, amount, item name, etc.)
–     For each transaction or account change, only 1 message can be sent. For example, debt reminder cannot be sent multiple times, unless your account is about to be locked.
For customers
Customers must also meet the following conditions to receive ZNS: (1) User account who is currently using the company's services or products, and (2) allow messages and notifications from that company.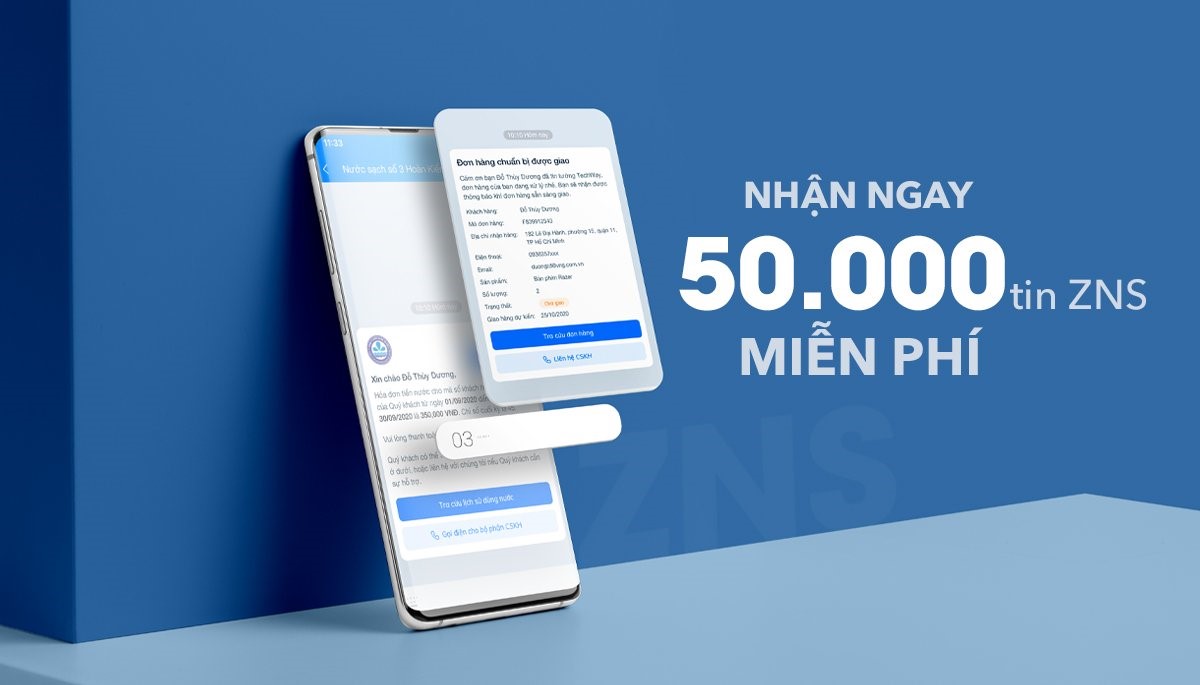 Nevertheless, if your company has sided with a third-party agency like DooPage, we will help you prepare to meet these conditions. Additionally, we also offer bundled services for businesses in case they need them, etc. To put it simply, DooPage will provide free SMS for the Vietnamese market thorough support to our customers when implementing ZNS.
 

Why DooPage's integrated ZNS should be your best available option?
Quick registration: DooPage has a professional team with in-depth expertise that can easily register and precisely implement the service. DooPage has already implemented different forms of technical connection methods, so implementing a ZNS messaging model will be much easier and speedy.

More simple and effective tools: DooPage offers tools to launch a campaign for sending and receiving messages and to manage transactions with each customer through their phone numbers (which can easily identify: the number of messages sent before; how many likes responded; how many replies, etc.). Messages are easily sent and received via mobile apps, even via Zalo.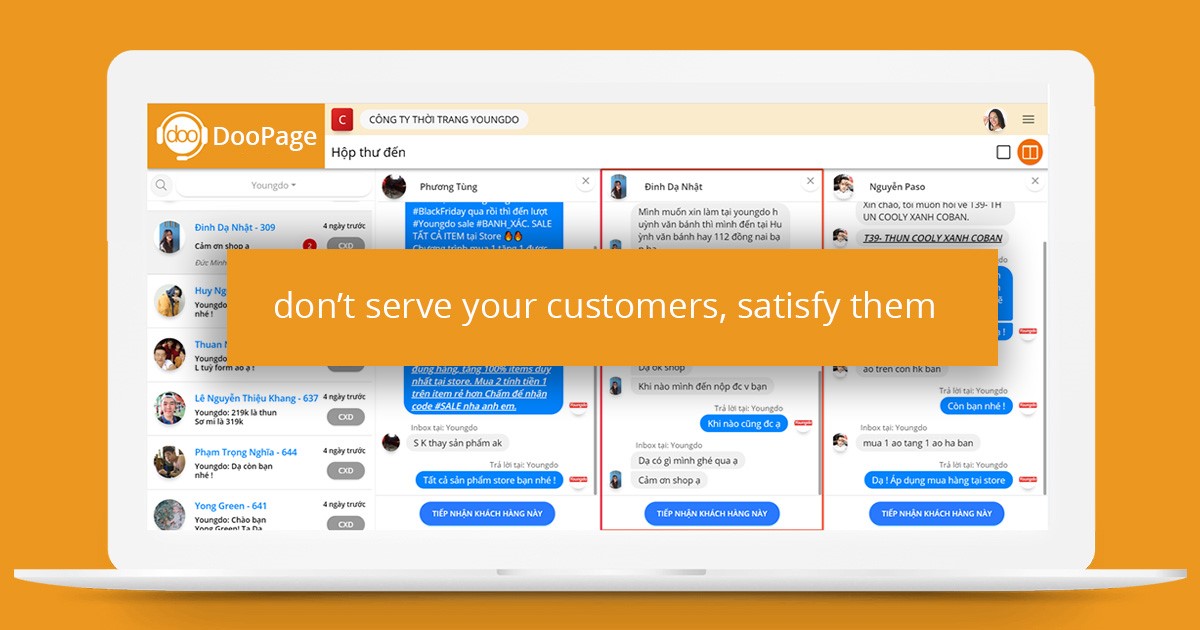 Omni-channel: DooPage supports omnichannel management tools, which can link and integrate customers with different social media platforms: Facebook, Viber, Zalo, etc.

Third-party Support: Other third-party software, such as CRM, ERP, PORTAL, WEBSITE, can be smoothly integrated with DooPage's ZNS.

Call Center and Contact Center support: DooPage's Call Center and Contact Center as well as those from other providers can be easily used together with ZNS.

Groups chat with customers and employees: Particularly for users who have been "interested" in the company's OA, businesses can create and manage group chat with those users. They can also store, manage tickets, and manage tasks that their customer-care staff members deal with or discuss with customers.
Our customers' feedbacks on ZNS's free SMS offered by DooPage
Mr. T.: "DooPage product is really easy to use and convenient for proactive customer care. The price is considerably cheaper than other customer-care media; easy to connect API with CRM to manage customer interaction, and finally, you also get 50.000 free Zalo messages. Wonderful!".
Ms. H: "ZNS provides diverse forms of communication and easy two-way interaction with customers through Call-To-Action buttons on the interface. The speed of sending messages is extremely fast: within only 01 seconds, 100% of the messages will be sent. Also, it helps save a considerable amount of money with DooPage's CRM platform, compared to other customer care media." 
The article has listed several advantages of free SMS for the Vietnamese market model on the ZNS platform provided by DooPage, as well as the practical benefits to business operation. Subsequently, DooPage's ZNS can provide customer-care services more effectively than other current forms of messaging, boost sales in particular and promote business status in general.